August, 10, 2023 @ 08:00 AM
What is AwardSpring?
The AwardSpring platform is where McMaster students go to find and apply for internal scholarship and bursary opportunities. The platform uses information on your program and background to create a personalized list of awards that match your eligibility. Then, you can apply for awards, monitor their status and find more funding opportunities, all in one place.
How do I apply?
1. Sign in to AwardSpring. Visit the AwardSpring homepage and sign in with your MacID and password.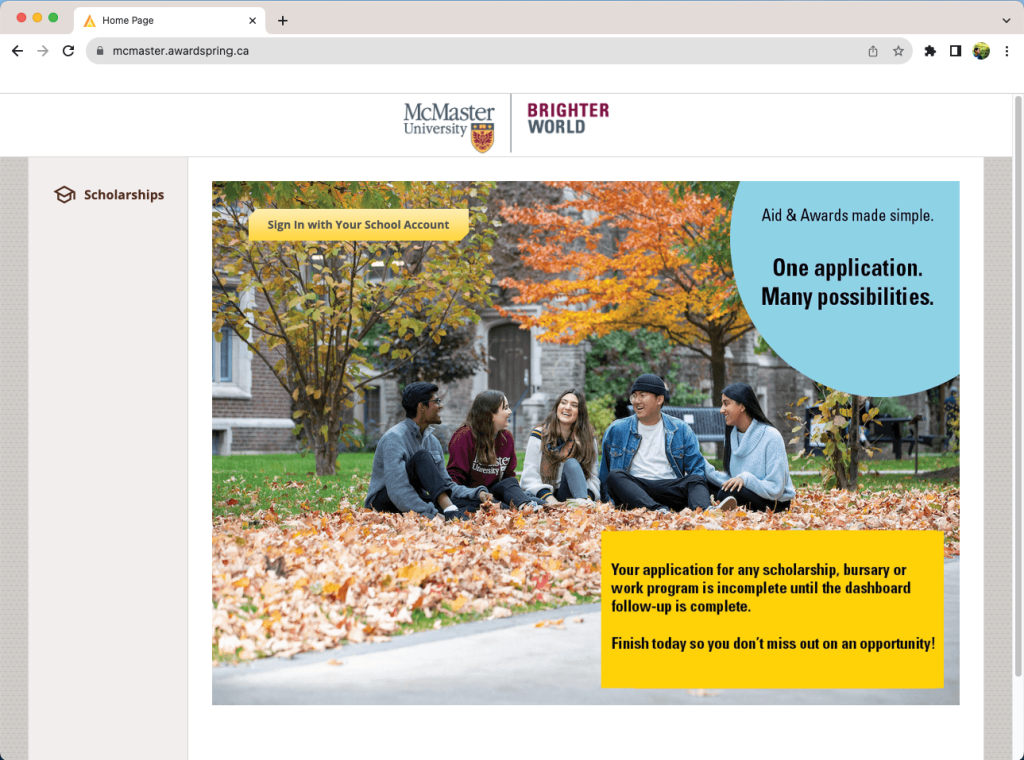 2. Fill out the General Application. Formerly called the "Common Application," this short questionnaire asks about your program and background so AwardSpring can create a personalized list of awards just for you. It takes less than 15 minutes to complete.
To automatically apply to the General Bursary Program, select "Yes" for the question "Would you like to be considered for aid that requires you to demonstrate financial need?" It's the first question in the new Financial Information section. If you demonstrate financial need in the General Application, then you will automatically apply!
3. Complete your Follow-ups. On AwardSpring's Dashboard, you will find a "Follow-ups" section. This is where you apply for individual awards with extra criteria like references, essays, etc. Complete these before the application deadline listed on the award. If the award requires a reference, finish the Follow-ups early to give your referee time to respond.
4. Keep checking back. Awards appear in AwardSpring throughout the school year, starting with bursaries in the fall and scholarships on January 1. Make sure you check back frequently to see what new awards are available.
5. Collect your money! Awards will be applied directly to your student account. Any leftover will then be paid out to you directly.
Dates, deadlines and timelines
Here's a brief timeline of what to expect from AwardSpring throughout the school year:
Important dates
August 10: AwardSpring opens for the year

Applications for bursaries, work program and Rhodes scholarship open

September 1: Medicine student bursaries applications open
October: Killam Scholarship applications opens
October 10: Renaissance Scholarship applications opens
January 1: Most scholarship applications open
March 14: Summer bursary applications open
Deadlines
January 16:

General bursary applications due – you must have a completed General Application which indicates you have financial need before this date

February 17: Entrance award and bursary applications due
March 29: Travel and exchange applications due
April 15: Summer bursary applications due
April 29: In-course, graduating student and community contribution scholarships applications due
Payment timelines
Fall: Payments for entrance bursaries, entrance awards and most scholarships
Early December: Medicine student bursary payments
Mid-December: MBA student bursary payments
Mid-February: General bursary payments
Frequently-asked questions