McMaster University encourages interdisciplinary study and believes undergraduate studies provides an excellent opportunity to explore topics which are new and unfamiliar.
The Personal Interest Course (PIC) option is designed to encourage students to explore interests outside of their program without affecting their Cumulative GPA.
About PIC
A student can declare a PIC to signify they want an elective course to be assessed on a Credit or No Credit (CR/NC) grading scale. To receive the grade of CR, the student must earn a final mark of at least 50%. Units earned from a successfully completed PIC will be counted in the units required for a student's degree as applicable.
Courses with a final grade of NC do not count as degree credits or as failures, nor are they included in the GPA calculation or averages. Please note, government student aid (e.g., OSAP) will consider a NC grade as a failure.
The PIC option is not available for any course that is considered a program requirement (which includes courses listed as possible required courses), independent study, thesis, field study or placement course, or on a list of required courses. Students are responsible for ensuring the course is an elective course for their program. Engineering students should note the PIC option is available only for complementary studies electives.
Students may declare a maximum of 3 units of PIC per term to a maximum of 12 units per four- or five-level degree or a maximum of 9 units per three-level degree. A maximum of 6 units of PIC may be used to satisfy requirements toward a Minor.
The PIC option is available to undergraduate students registered in a program above Level I, with a Cumulative GPA of at least 3.5, who are enrolled in a Program/Faculty which is participating in the PIC option. Exchange students should seek advice from the International Student Services and Faculty/Program Office.
If a percentage grade in a course is required for future applications to graduate or professional school, the PIC option should not be selected for that course. Students may not subsequently request to have a PIC grade recalculated to a numeric grade. Students must carefully review any government (e.g., OSAP) and University aid and award eligibility rules which may be affected by the use of the PIC option.
If the student changes their program of study and a course taken as a PIC becomes a required course, the new Faculty/Program Office may accept the course grade of CR or NC or have the grade converted back into a numeric grade. If a grade is converted back into a numeric grade, there will be no retroactive reconsideration of aid and award.
Students cannot use the PIC option for courses in which they have been found guilty of academic dishonesty. In these cases, the grade will be converted into a numeric grade, however, the grade is not included in the calculation of the GPA or averages.
Specific to Aid & Awards:
PIC courses will be included in the overall course load percentage to determine OSAP eligibility.
There is a requirement for a minimum number of graded units when calculating GPA or Fall-Winter Average (for example) for award programs.
The PIC option is not available to:
Students who are enrolled in the School of Medicine, or
have graduated and are in a second degree or a non-degree program, e.g., continuing, etc.
Deadlines for declaring PIC
Students must declare a course as a PIC on Mosaic by the last day for enrolment and course changes date.
The student progresses in the course as per normal and has the option to withdraw from the course as per the normal procedures and deadlines.
If the student would rather keep the numeric grade, they must indicate the course is no longer a PIC on Mosaic by the final date in which a student can withdrawal from a course without failure by default and the numeric grade will appear on their transcript.
Selecting a PIC option
Sign into Mosaic and go to the Student Centre
Once you have enrolled in the course, select the 'edit' tab and change the grading basis from Graded to PIC. You can do this until the last day for enrolment and changes for each term.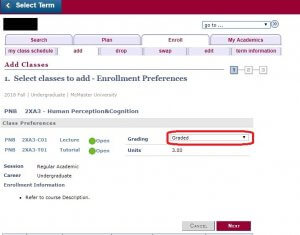 Selecting a 6-unit multi-term course as a PIC option
If you receive the following error message when trying to select a 6 unit multi-term course as a PIC option then you will need to meet with your academic advisor to make the change.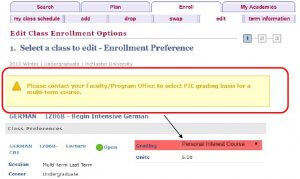 If you are an academic advisor then please refer to the user guide on how to complete this.