If you find yourself with a credit (negative balance) on your student account, McMaster will first verify, then refund the over payment.
Refunds are generally scheduled after the winter term drop/add period is over and all courses finalized. There are certain circumstances where we would accept a refund request mid-session (i.e. a withdraw, over payment in error, etc.). Credits for dropped/cancelled courses and over-payments are first applied against other debt owed to the university (residence, meal plan, miscellaneous charges and bookstore appearing on the account).
Please note: Students in the McMaster-Conestoga or McMaster-Mohawk Nursing program do not pay fees to McMaster and must request refunds from Conestoga or Mohawk.
Requesting a refund
Please email refunds@mcmaster.ca to request a refund for a credit balance via Interac e-transfer.
Type REFUND, your name and 9-digit ID number in the subject line, e.g. REFUND – John Smith #001111111. Please do not send duplicate requests or follow up emails.
EFT or cheques will only be processed in extenuating circumstances. Ensure your address information is correct in Mosaic. Please allow 4 to 6 weeks for processing and delivery.
Refunds over $25,000 will be split in two amounts for both graduate and undergraduate students. You can deposit one amount per day.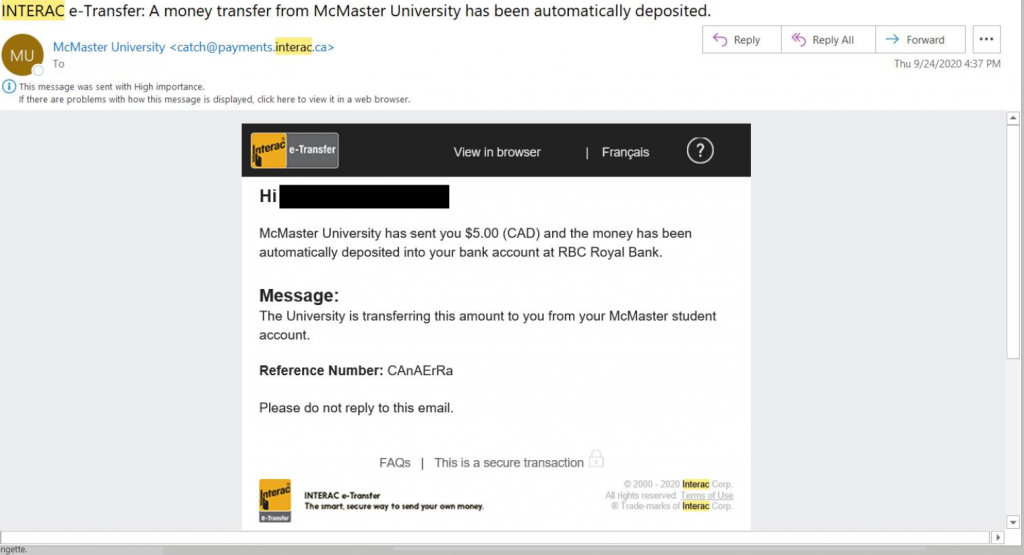 Students with a Canadian bank account:
Refunds are processed via Interac e-transfer to your McMaster email address. Please monitor your inbox and junk/spam folder.
You will receive an email directing you to log in to your online banking to make a deposit (it does not need to be sent to the email address associated with the student's bank account in order to accept).
International refunds:
If you have never had a Canadian bank or credit union account, please contact refunds@mcmaster.ca to coordinate your refund through Convera (formerly Western Union) or CIBC International.
Interact E-transfer refunds are also being processed for recent graduates.
CHECK OUT WHAT'S GOING ON!