If you find yourself with a credit (negative balance) on your student account, McMaster will first verify, then refund the credit.
Refunds are generally processed after the winter term drop/add period is over and all courses finalized. There are certain circumstances where we would accept a refund request mid-session (e.g. a withdraw, over-payment in error, etc.). Credits for dropped/cancelled courses and over-payments are first applied against other debt owed to the university (e.g. residence, meal plan, miscellaneous and Campus Store charges appearing on the account).
Please note: Students in the McMaster-Conestoga or McMaster-Mohawk Nursing program do not pay fees to McMaster and must request refunds from Conestoga or Mohawk.
Step 1: Request a refund
Please click here to complete the refund request form.
You will need to login using your McMaster email address (MacID@mcmaster.ca) even if you no longer have access to it. If you have forgotten your password, please follow the link to reset your password.
Due to the high volume of refund requests, please allow 4 to 6 weeks for processing.
Cheques will only be processed in extenuating circumstances. Ensure your address information is correct in Mosaic.
Step 2: Receiving your refund
Refunds are processed via Interac e-transfer to your McMaster email address. Please monitor your inbox and junk/spam folder.
You will receive an email directing you to log in to your online banking to make a deposit (it does not need to be sent to the email address associated with the student's bank account in order to accept).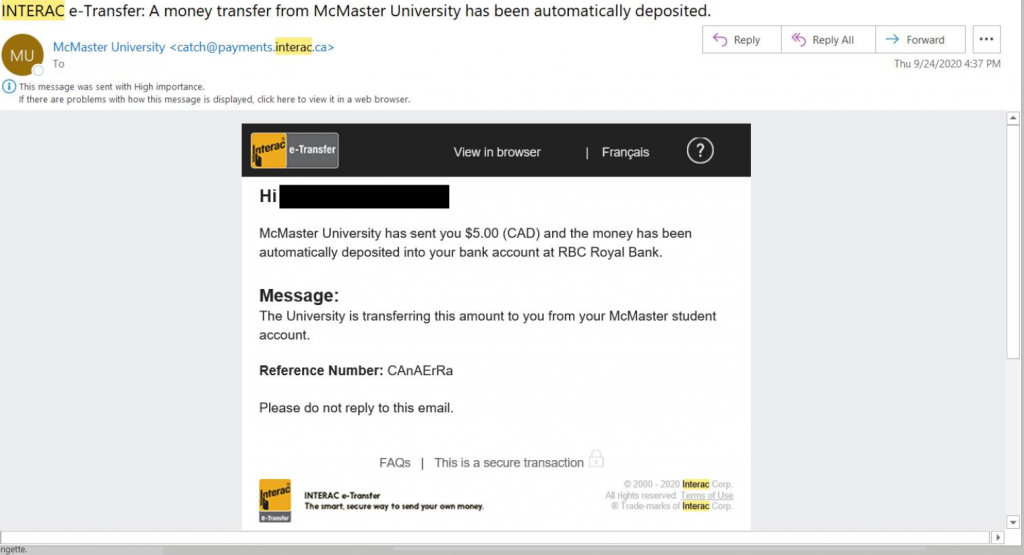 Please note, refunds over $25,000 will be split in two amounts for both graduate and undergraduate students. You can deposit one amount per day. 
If you used Convera (formerly Western Union) or CIBC International as your original method of payment, we will work with you to coordinate your refund.
International Refunds via PayMyTuition
These steps outline our international refund process and how your refund will be deposited to your bank account once McMaster University has finalized processing your refund. You can also download this PayMyTuition Refund Guide.
You will receive an email from PayMyTuition (studentrefunds@paymytuition.com). This email will provide further instructions on how to complete your refund:
You may choose to deposit the funds into someone else's bank account. When you are directed to the PayMyTuition refund form, you will have the option within the Beneficiary Information tab to select someone else as the recipient and input their bank information.
Enter beneficiary details: Complete the online refund beneficiary instruction form which requires currency, identification documentation (either passport or driver's license), banking and beneficiary information.
Complete verification: Upon receipt of your completed beneficiary instructions, PayMyTuition will verify your request for accuracy. They will complete fraud and compliance checks to comply with various anti-money laundering and compliance laws.
Payment confirmation: PayMyTuition will send you a confirmation email once your beneficiary information has been verified and approved. You will receive a PDF summary that is password protected. This PDF can be accessed using the bank account number that you provided in Step 2 as the password.
Refund processed: Once your refund has been processed, you will receive a notification that your refund is complete. Please allow 3-5 business days for the payment to be deposited to your account.
If you encounter any difficulties with your refund, please contact studentrefunds@paymytuition.com for assistance.
CHECK OUT WHAT'S GOING ON!