Enrolment Terminology
MyTimetable
There are two ways you can enrol: using MyTimetable or using Mosaic. MyTimetable is the newest online self-service tool for undergraduate students that allows you find an optimal and conflict-free timetable and direct class enrolment. Any classes you enrol in or drop from MyTimetable will be immediately reflected in Mosaic.
Undergraduate Calendar
The official document where you can find all degree, program and course requirements, along with rules and regulations for the academic year.
Enrolment Appointment
The date you are randomly assigned to enrol in classes based on your academic level. Note: you can use MyTimetable to create your schedule prior to your enrolment appointment by adding to your shopping cart but can only "check out" (submit) those classes after your enrolment appointment date/time opens.
Course Catalogue
A historical list of all courses that are currently or have been offered at McMaster, with descriptions and additional course details.
Dynamic Class
A dynamic class does not follow the regular start and end dates, drop and add dates or withdrawal dates for undergraduate students. After you enrol in the class, you will be able to check the dates by clicking on the 'Deadlines' for the class under 'My Class Schedule' in the Student Centre.
Class Search
A master timetable of courses offered during the current academic year.
Academic Advising
Picking your courses can be overwhelming. Academic Advisors in your Faculty are here to help! Advisors can answer questions about your program, picking courses, course requirements and more.
Component
Each course is made up of one or more components, such as lectures, labs, tutorials, and seminars. Each component may have multiple sections, or groups of students, and where there are multiple sections, you may have some choice in selecting sections for each component of the course.
Synchronous
Synchronous learning is any activity in a course that happens live in real-time, whether in person or online.
Asynchronous
Asynchronous learning is all the other activities in a course that you can complete online, in a self-paced manner, on your own time.
Instruction Mode
During course selection, each course component will be marked with a distinct instruction mode that will indicate if it is virtual, online, or has elements of in-person learning.
If you are enrolling in a course or course component designated as in-person, there will be varying levels of in-person engagement throughout the term. Please note that you are expected to attend any in-person components of such courses on campus for the duration of the term.
If you are not able to attend any in-person components, it is recommended that you register in another course that is offered virtually or online. If the in-person course is a degree requirement where you have no other course options, please contact your Associate Dean's/Program Office where you may request consideration based upon extenuating circumstances. Please note that not all programs are able to offer consideration and that you may have to defer the course if you are not able to attend campus.
Learn about instruction modes for 2021-22. This is important information for enrolment.
Access MyTimetable
You can access MyTimetable two ways:
Log into Mosaic and go to the Create MyTimetable tile on the homepage
Or, go to the MyTimetable link in the Student Center in Mosaic
Once logged in, you will be able to search, sort, select your optimal timetable.
On the day of your enrolment appointment, you will be able to move your selected schedule from the shopping cart and enrol.
Plan your schedule
You can access MyTimetable before your enrolment begins. This allows you to save schedules to your favourites and easily pull them up when it's your time to enrol. You can also add courses to your shopping cart and validate it to ensure that you meet the prerequisites for the course. Need help picking your courses? Academic Advisors in your Faculty can answer questions about your program, picking courses, course requirements and more.
To add courses to your shopping cart:
Search for and select the classes you want.
Once you have found your ideal schedule, go to 'Get this Schedule'. On the next screen under "Action" you'll see that it has been set to 'Add to Cart'.
Go to "Do Actions" and the "Results" column will update to let you know that it has been added to your shopping cart.
Go to "Return to Select Courses".
Go to "Validate Shopping Cart" to see if you meet the prerequisites for the courses you plan on taking.
View the results for each course and make changes as needed.
Even though these classes are in your shopping cart, you are not enrolled yet and a spot is not held for you. You will have to wait until enrolment opens for you before you can successfully add these classes.
Checking requirements and prerequisites
You can find course requirements and prerequisites in the Academic Calendar. You can also review the catalogue description in MyTimetable – just go to 'show more' on each class in the left-hand column.
Dates, times and locations
When you search for a course through the 'Add Courses' section, the date, time and location of the class will appear on the timetable in the results section, under each course.
Full courses and course availability
Both class and enrolment information are refreshed every 30 seconds so full courses shown on MyTimetable are accurate and up-to-date.
Courses with a green circle are available and courses with a blue box are full. At this point we do not offer a wait-list for full classes.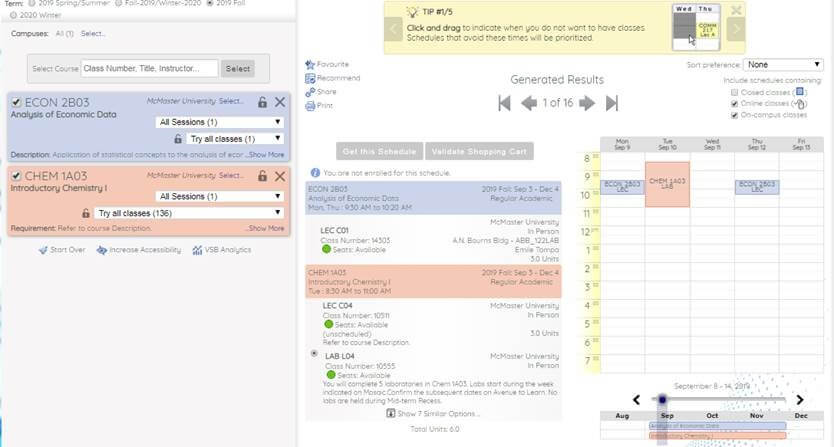 Time blocking
You can click and drag to block out certain times in the schedule based on your commitments. The timeslot will appear grey once you have done this.
Time blocking won't remove any timetables, just re-order the results so the ones that work best with your personal time constraints are at the top of the list. This way, you can really see all your options and make an informed decision about what works for you.
To remove a time block, just click on the grey area for the timeslot that you no longer want to block. The block will be removed to show that you are available.
Sorting results
In some cases, you may be facing tens or hundreds of possible options for your schedule. You can use the sort preferences found in the top right-hand corner of the results section to bring more favourable results to the front. While this will not eliminate other options, it allows the more favourable ones appear first so that you can scroll through less schedules before finding your favourite one.
You can sort your schedule results by going to 'Sort Preferences' on the right-hand side of the screen to include:
None
Most days off
Morning classes
Mid-day classes
Evening classes
Time off campus
Most on-campus
Based on what preferences you select, your results may change.
If you come up with too many schedule possibilities while selecting courses, we recommend reducing the number of enabled classes or pin some classes before adding more courses. This will help you narrow down a timetable.
Pin courses
When you find a course section that you really want to keep, pin it down and the list will eliminate any timetable options that don't include your pinned course or section. You can click to pin right on the time grid or in the list of courses. Now when you sort through, the system will hold that class constant and sort other combinations again. Just click again to un-pin.
When a class is unpinned, this may provide more possible schedule results to display searched classes during the day and time of the unpinned class.
To search for a class during a time that you already have a class enrolled, unpin the enrolled class and search for the desired course. The results section will display alternative schedule options.
Favourites
Go to 'Favourite' at the start of the page to save a timetable to refer to later. This will open a new panel and all timetables that you favourite can be found here. You can save 5 favourite schedules; this can be done before enrolment opens.
NOTE: Placing a timetable in 'Favourites' will NOT reserve a seat. Please complete your enrolment as soon as possible to avoid disappointment.
Once your enrolment appointment opens and you've created the timetable you want using the shopping cart, go to "Get This Schedule". It's recommended that you enrol as soon as you can after choosing your timetable. While the class availability updates every 30 seconds, it's possible that a course which was not full when you were creating your timetable in MyTimetable might be full by the time you register. Note: please use a different browser if you have trouble with enrolment on Google Chrome.
From here, click "Go to Enrol" and you're done! You can print your schedule by going to the "Print Schedule" link in the top left corner of the "Results" section.
| Issue | Contact |
| --- | --- |
| Problems logging into Mosaic, accessing the tile through Mosaic and signing into MyTimetable | uts@mcmaster.ca |
| Admissions and Enrolment support | Office of the Registrar online chat |
Course related issues? Contact an Academic Advisor in your Faculty.
Check out what's going on!