Before making your payment, please review your account balance in your Mosaic Student Center for up-to-date balances.
Please note: McMaster University does not accept cash or cheque payments. To avoid administration fees due to late payments, please check the fee deadlines.
Canadian payment methods
Payments from a Canadian bank account
Set up online banking from your Canadian financial institution's website/app.
Make sure you regularly review your Mosaic balance due to ensure you are paying the correct amount.
Setting it up
Log in to your financial institution's website.
Go to Bill Payments.
Add a Payee (or new bill).
Search and add McMaster University.
Enter your 9 digit student number as the "Account Number". (Double check the ID # before proceeding

)

Confirm the information.
Make a payment
Log in to your financial institution's website.
Go to Bill Payments.
Select McMaster University.
Enter amount you wish to pay.
Confirm the information.
Take a screenshot as a proof of payment. (For your own records)
Payments can take 3 to 5 business days to arrive in your McMaster student account. If your payment has not been received within this time frame, contact your financial institution.
VISA/Mastercard
Log in to Mosaic.
Select the Make a Payment button located in the finance section of your Student Center.
Follow the instructions for Credit Card payments. Please note: VISA debit and Mastercard debit cards are NOT accepted using this method.
A non-refundable convenience fee of 2.25% will be charged by the provider.
To avoid late payment and other administrative charges, submit no later than the payment deadlines.
International payment methods
If you are an international student that needs to pay your tuition prior to enrolment, you can make a payment to McMaster by calculating your fees. Payments can be done through CIBC International Student Pay web portal or Convera – McMaster student platform. Please make sure you only submit early payment after you have accepted your McMaster offer and have your Mac ID and student number.
Your fees are based on the amounts listed on our tuition page.
First-year tuition is equivalent to a 30-unit course load (37 units for Engineering students).
For a typical first-year course load (ex: Arts & Science: $1,306.55 per unit × 30 units).
All science Gateway programs are categorized under 'Science/Kinesiology' for first year.
Note: The published fee amounts are for the 2021/2022 academic year. These fees will change for students entering in the 2022/2023 academic year. You may use the 2021/2022 fee amounts until the new fees are posted in early June 2022. However, if you make your payment before the 2022/2023 fees are published, you will likely owe an additional amount. This will be payable when you arrive in September.
Payment verification
Payment options for international students
Send payments on the CIBC International Student Pay platform via bank wires, credit card (Visa/MasterCard), debit cards, ACH and China Union Pay.
How to pay
Step 1: Select your platform
Go to CIBC International Student Pay web portal or select the "Make a Payment" button from your Student Center.
Step 2: Details
Select either "Yes" or "No" under Agent Details.
Under Payment details:
Select the country where the funds will be transferred from
Fill in the amount you want to pay in Canadian dollars (CAD)
Step 3: Payment options
You can make a payment using Bank Wire, Visa, MasterCard, China UnionPay, ACH (Direct Debit), and two new payment methods to further support the acceptance of payments from China: Local Bank Transfer and Alipay & Wechat eWallets. Scroll through payment options and select the one that best fits your criteria.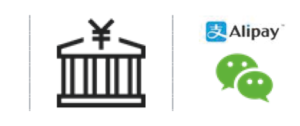 Please ensure you read each option's details.
Step 4: Finalize payment
McMaster will post the Canadian Dollar equivalent to your Mosaic account.
Step 5: Track your payment
You can track your payment anytime by selecting 'track your payments' on the CIBC International Student Pay portal
To learn more about how to make a payment, please watch a 'how to' video by choosing your preferred language:
If you have any inquires, please contact CIBC International Student Pay Support:
Calling from India (toll free): +1800121661661
Calling from North America (toll free): +18446378898
Calling from anywhere else in the world: +919071373838
Email: Studenthelp@cibc.com
Payments from an international bank account
Step 1: select your platform
Go to Convera – McMaster student platform or select the "Make a Payment" button from your Student Center.
Step 2: enter details
Select the country you're paying from and enter the details about your payment. Select your preferred payment method. Enter your student details and confirm who is making the payment.
Step 3: make a payment
Complete your student payment transaction:
Online
Bank Transfer
In-Person
Step 4: track your payment
Track your payment by entering your "Payment Reference Number."
If you have any inquires, please contact Convera Support:
Note: This is not a payment through Convera Agent locations.
HigherEdPoints
How to make payments with loyalty points:
Head over to the HigherEdPoints website.
Select the "How it Works" tab at the top to see if you are eligible to participate in this program.
If eligible, create an account.
Redeem your loyalty points through either aeroplan, TD and/or CIBC.
Once you have redeemed your points, log in to your HigherEdPoints account to transfer the funds.
For any additional information, please visit HigherEdPoints' website.