McMaster Recruitment around the world
October, 21, 2019 08:00 AM
We're halfway through the fall semester and most of us are focused on the next round of assignments, maybe even finals. For the talented recruiting team here at McMaster, the focus is already on fall 2020.
Applications for next year are already open and thousands of people have already applied. Some applied because they know about McMaster from living in the area or because they heard about our recent world ranking. Others, however, are excited to come to McMaster because of our recruitment team.
The student recruitment team are your university ambassadors. They work booths at schools and trade shows across Ontario and the globe, telling people about what it's like to live and learn at McMaster.
The unofficial kickoff to the domestic recruiting season is the Ontario Universities' Fair in downtown Toronto in late September. This year, our team of recruiters and current students chatted with thousands of people about joining the Class of 2024. By the end of the weekend, over 17,000 students signed up for more information. Since then, our domestic recruitment team has been traveling Ontario, doing presentations, answering questions and getting people excited about Mac.
For our international recruitment team, there is no kickoff event. They travel the globe year-round in search of the world's best and brightest. In just a few short years, the team has grown in number and in scope, visiting five continents and dozens of countries in the past few months alone. From Nairobi to Beijing, Lisbon to Lima, they visit fairs and schools talking to students who are looking for a unique and rewarding university experience.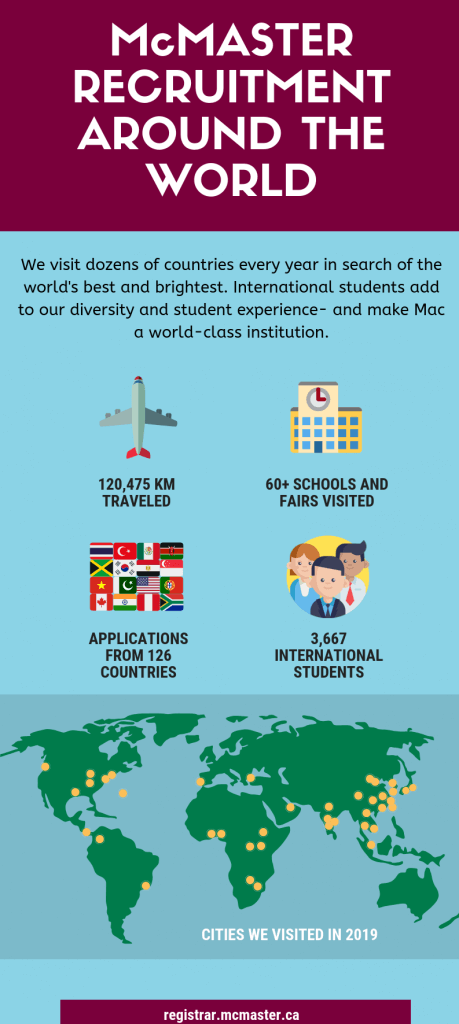 When not travelling, our recruiters are focused on campus events for prospective students, including Fall Preview. Many of you probably took advantage of Fall Preview when you were deciding to come to McMaster. Thousands of prospective students from Ontario and much, much further come to campus on these days for guided tours, informational sessions, to check out residences and more.
Want to learn more? Visit future.mcmaster.ca or @macadmit on social media