Notice:
Financial Aid and Student Services are now together in one space! Come check out the newly renovated frontline services from the Registrar's Office in Gilmour Hall, 108.
September Bulletin
September 09, 2019 02:00 PM
Welcome back, Marauders (or welcome to those of you new this year)! We're here with everything you need to succeed this term.
Mark your calendar: important dates
Sept. 11, 2019 – last day for enrolment and course changes (drop/add)
Sept. 25, 2019 – NEW fall fee deadline
Monday, Oct. 14 to Sunday, Oct. 20, 2019 – Fall Reading Week
Nov. 8 – last day for withdrawing from
courses without failure by default
Opt-out of non-essential supplementary fees
Student Services
NEW: Financial Aid and Registrar Services are now together in one space! Check out our newly renovated front-line services in GH 108
In an effort to reduce our paper usage and provide instant services to you, we now offer free on-demand transcripts in GH 108 after 10 a.m. on business days
Need to confirm your enrolment for your RESP plan? Request an RESP enrolment verification letter
Financial Aid & Scholarships
Staying safe on campus
McMaster Security Services has launched a new safety app for Android and iPhone users
It provides safety alerts, emergency contact info, a new "Friend Walk" feature and more!
Fall into reading week with the Student Success Centre
Job Shadow Program – gain experience in an industry that interests you during reading week
Save the date: upcoming fairs
Community Engagement and Volunteer Fair – Tuesday, Sept. 17, 11 a.m. to 3 p.m., MUSC
Fall Career Fair – Thursday, Sept. 19, 10 a.m. to 3 p.m., Sport Hall
Fall Career Fair Access Hour 2019: Mobilizing your Diversity – Thursday, Sept. 19, CIBC Hall
Student Services Fair – Thursday, Oct. 31, MUSC
McMaster Exchange Fair – Nov. 19, 10 a.m. to 2 p.m., MUSC
New health and well-being website
McMaster joined the growing list of health-promoting schools in 2017 after signing the Okanagan Charter, dedicated to advancing student, faculty and staff health and well-being
McMaster's Okanagan Committee has launched a brand new, interactive website, where you can find all of the campus health and well-being resources all in one place!
A little about the Registrar's Office
We're the ones who selected you for admission, print your student cards, make sure your class schedules are conflict-free, manage all of your exams, help you with OSAP and scholarships, securely keep track of your student record and organize convocation, when you'll receive your diploma.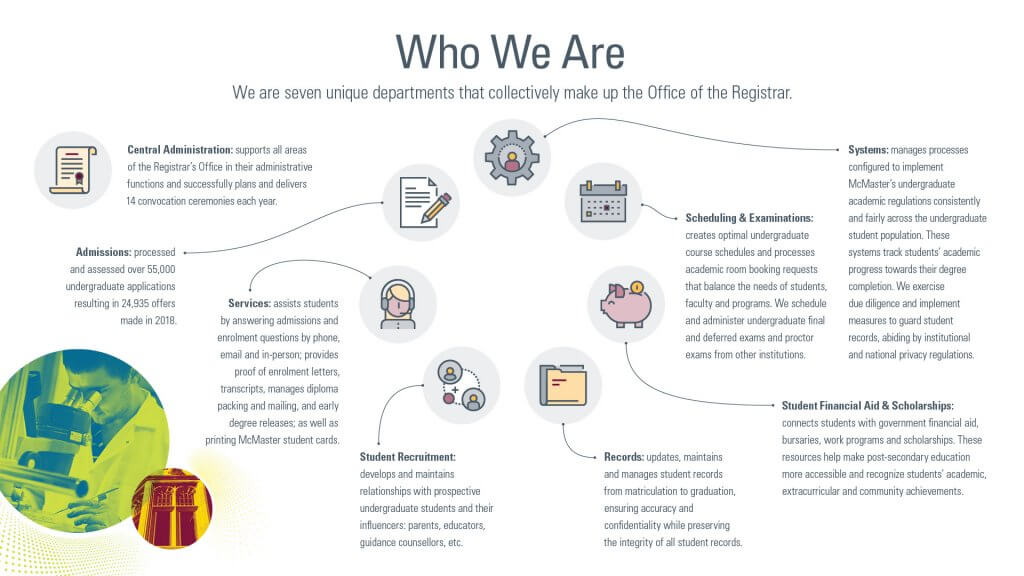 Channels